One-Stop Shop for Custom Metal Signs.
As a full-service sheet metal fabrication shop, it's safe to say we see a wide variety of projects on a daily basis. Having been in business since 1999, we feel confident in our team's ability to make any design come to life. One particular product that has always been popular since the very start has been custom signs. Whether it be for a small local business, national corporation or any other organization, your possibilities are endless. Furthermore, with the machinery available, our team is able to cut any and all metals, as well as superalloys, plastic, glass, stone, tile, ceramics, rubber foam, you name it! This includes the possibility of cutting multi-layer signs that allow for that popular back-light effect.
Since opening our shop, we've had the opportunity to work with many notable companies, including Kansas City-based real estate developer, Hunt Midwest. In the images below, you'll be able to get a behind-the-scenes look at a couple of custom signs we created for their new developments.
Our Process.
Particularly for commercial purposes, we understand time is money. As such, we realize that you don't have a lot of time to waste. Whether you're planning on starting construction on a new development, opening a brand-new store or any other business endeavor, you can't afford for the metal fabrication process to take weeks (or even days) longer than expected! With that in mind, we take pride in efficiency and sticking to agreed-upon timelines. To make this a reality, our sign fabrication process is about as straightforward as you get:
No matter if you already have the drawing programmed and are ready-to-go or it's simply a sketch on a piece of paper, our experienced design professionals can work with either. Keep in mind that if you would like us to program it, there will be a one-time programming fee.
Once the design has been programmed into our systems, it's now time to prepare your custom logo to hit the production process. If you want to make any changes to sizing, cutting style, edges or anything else, this will be the time to do so before the cutting process commences.
Last but not least, it's time to cut your brand new logo or sign! Thanks to having decades of experience, our skilled craftsman will be able to cut the sign exactly according to the agreed-upon specifications. After that, if you would like more signs cut, we agree to waive the initial programming charge.
Available Cutting Styles
To best ensure we have the tools necessary to handle any project, we have two primary pieces of machinery: Plasma Cutting and Five-Axis Waterjet Cutting. Read below to learn more about the advantages each offers.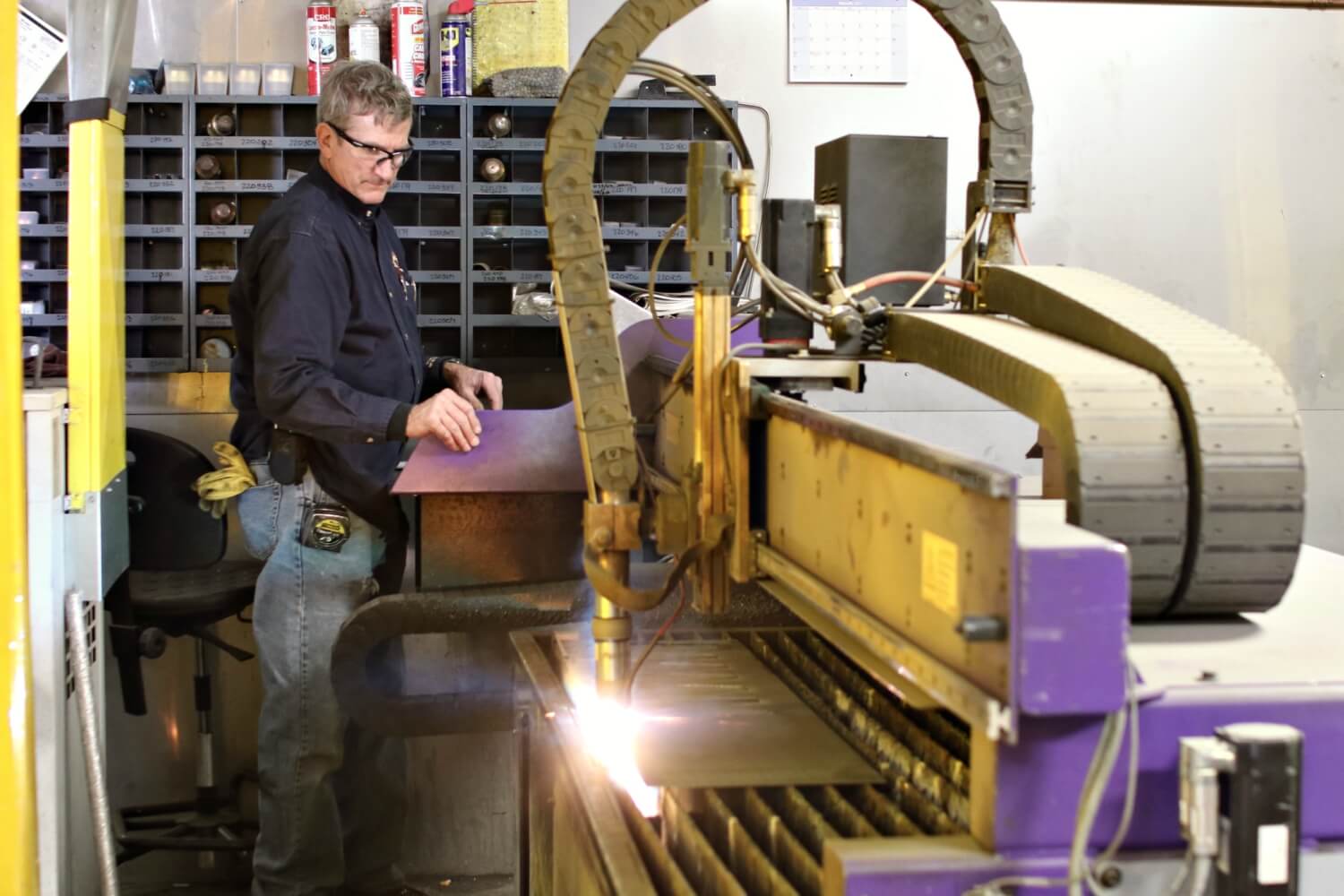 Plasma Cutting
Plasma cutting has been a staple in the sheet metal fabrication world for years! It possesses the ability to cut everything from aluminum to stainless steel, copper and many other metals. In terms of custom signs cut with plasma, you'll see the biggest advantage relates to the final price tag. If absolute accuracy is not required, then plasma cutting can be completed at about half the cost of the waterjet alternative. The key phrase there being "absolute accuracy not being required." Lastly, with the plasma cutter, you're able to cut up to 2" thick metals. For more information on why plasma cutting has managed to stay popular for so long, click HERE.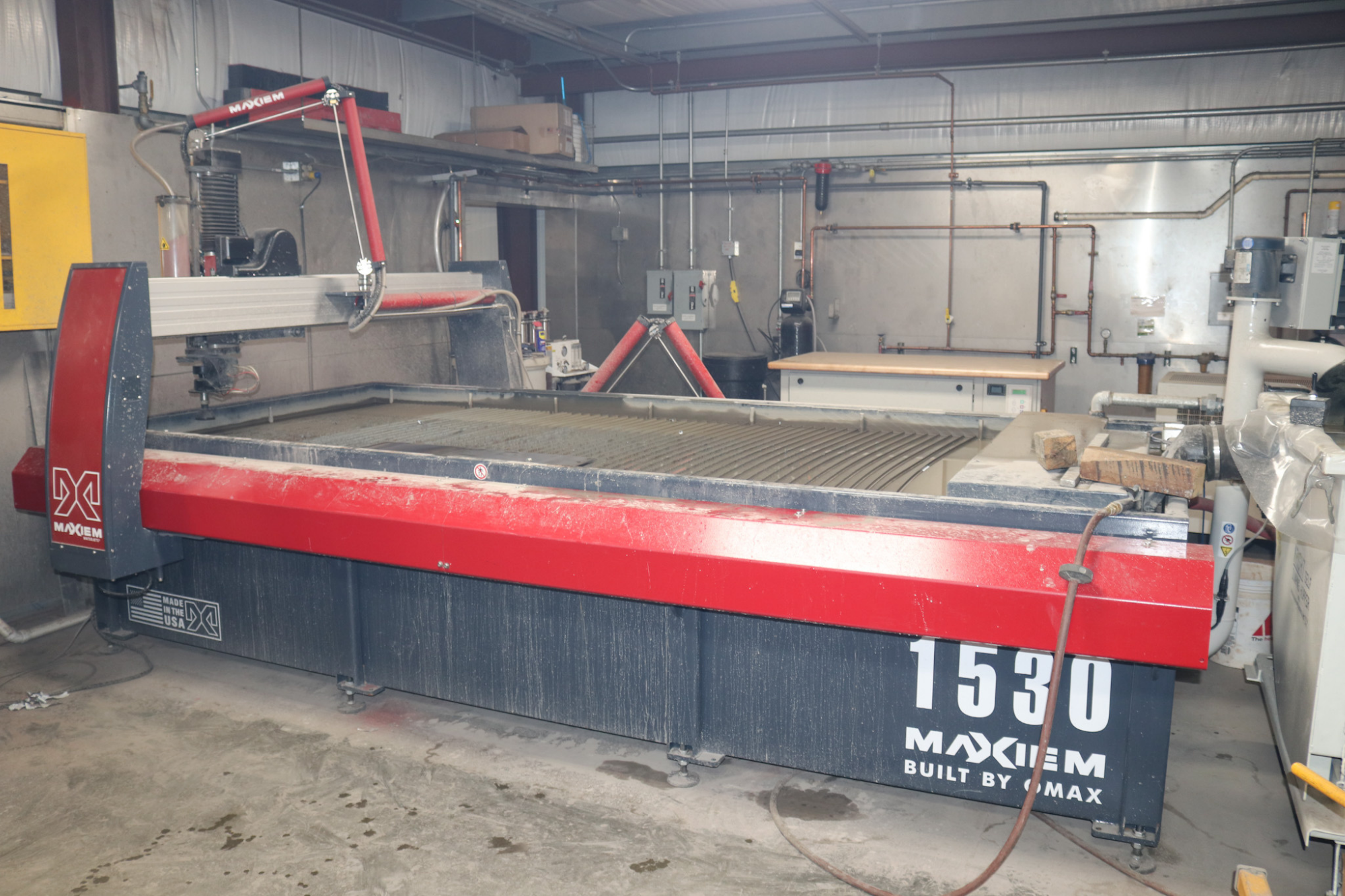 Five-Axis Waterjet Cutting
If you're looking for elite cutting capabilities, then you're searching for multi-axis waterjet cutting. Our team at Wil-Clair Sheet Metal currently uses the Omax Maxiem 1530 JetMachining Center. While waterjet cutting has been around for awhile, it's safe to say the precision and speed permitted by machines like the Maxiem 1530 are second to none. The five-axis cutting head gives our team the ability to have a cutting range of 0° to 60°. Going hand-in-hand with this, you also are able to seamlessly cut beveled edges, angled sides and countersinks. To learn more of the specific details, click HERE.
See The Waterjet In Action.
As we mentioned above, the five-axis waterjet machine has quickly become a favorite amongst many of our clients. Thanks to it's ability to cut quicker and at more precise accuracy, not only is the production time shortened, but the quality is top of the line!